MEP innovative features are related to the possibility to separately, independently, and seamlessly evaluate left and right crank arm contributions to define cyclist significative parameters on the crankset.
Measurements
Each MEP crank arm independently measures:
Left

and

Right

pedaling

force

whether pedaling force is

pushing

or

pulling

Left

and

Right

pedaling

offset loads
This data is transmitted in realtime, via
Bluetooth
, either to a
smartphone
(running
MEPPhone
), or to a
PC
(running
MEPManager
). Knowing the
crank length
and the
pedaling speed
, the software derives the pedaling
power
and
efficiency
values for each crank, and their
total
contributions.
Measurement accuracy
Each MEP system is tested in our Servocontrolled Test Rig (STR), equipped with a reference Load Cell.
Different tests are performed under Static and Dynamic Loads, comparing data from the STR with those on MEP display.
In order to not affect the accuracy of acquired data, STR has a higher resolution (16 bit) than MEP system.
Each MEP crank is tested in order to sperimentally acquire the
measuring accuracy
of all the parameters.
Our numerous tests on MEP cranks lead to the following
accuracy values
(valid for both left and right crank):
+/- 0.25

% F.S.

max linearity error

on force reading, from 0 to 1,800 N F.S.

+/- 0.5

mm

max error

, moving +/- 10 mm force position along pedal's axis
Structural resistance tests
MEP structural integrity has been proven by several structural, static and fatigue tests, such as:
Static

and

fatigue

tests, till failure, both on specimens and on complete parts
Fatigue tests

at different loads

, simulating anomalies such as partial lack of torque in fixing screws
Fatigue tests, performed according to

UNI-EN 14781:2006

, and exceeding

100,000 cycles

at

1,800 N

required by the Standards
Wear resistance tests
Parts have been assembled and disassembled
hundreds of times
without any poblem. We do believe this result was achieved thanks to the following characteristics of the MEP system:
Accurate

construction tolerances

Strength

of the kind of teeth adopted for motion transmission

High resistance

screws and helicoil inserts
Mechanically-guided golden plated connector inserts (which guarantee

safe connections

)
Tested electronic connector inserts (for over 10,000 insertion cycles encountering

no problem

neither mechanical, nor electronic)

Note:

we already use similar connectors in electronic instruments for surgical use, which withstand high duty temperature-pressure in autoclave
Total weight
The total weight is less than 1,500 grams.
Weight is not a fundamental requirement, as our objective is not to mount MEP during race in order to win, but to
perform winning practices!
Dimensional factors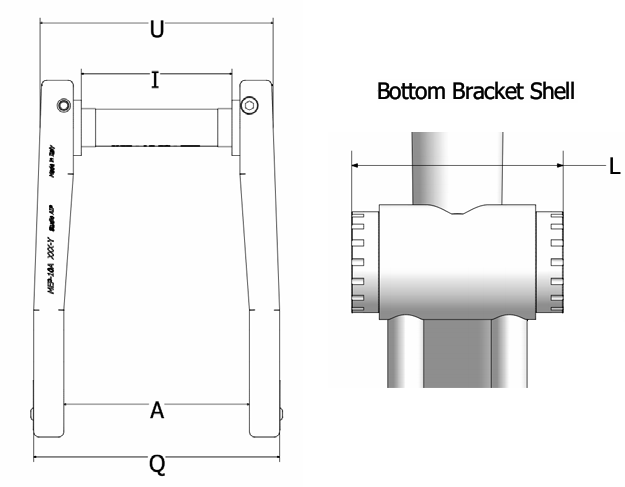 U = 145 mm (5.71")
A = 117 mm (4.61")
Q = 151 mm (5.94")
I = 95 mm (3.74")
Note:
our spindle actually allows the internal width (I) to be larger than the max (L) we have tested, in order to contain different types of Bore Bottom Brackets assy.
We supply additional spacers in order to adjust clearance to zero.